Testimonials
Dimplex ecotalk 08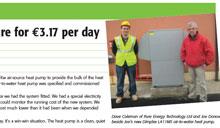 Clean, quiet and tidy in Clare for €3.17 per day
Joe Donovan and Majella Shannon fitted a Dimplex 11Kw air-source heat pump to provide the bulk of the heat in their 220m2 dwelling near Ruan in Co. Clare. The air-to-water heat pump was specified and commissioned by Limerick-based Pure Energy Technology Ltd.
Dimplex ecotalk 07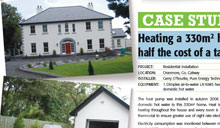 Heating a 330m2 home for half the cost of a tank of oil
The heat pump was installed in autumn 2006 and provides heating and domestic hot water to this 330m2 home. Heat is distributed via under-floor heating throughout the house and every room is fitted with a programmable thermostat...