Wind Energy Ireland
We supply and install efficient wind energy turbines to generate electricity and run geothermal heat pumps. A small wind turbine can turn your building into a generating station. Harness wind energy now to reduce your costs for the future.
Benefits of Generating Wind Energy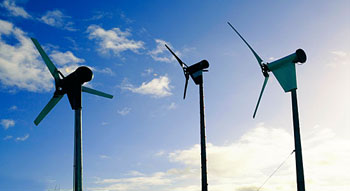 Households and Businesses that choose a professional wind energy company to manage their wind energy project can save a great deal of money and time. It takes considerable expertise to plan, install and commission an efficient wind energy solution. We use tried and tested Proven wind turbines for maximum efficiency. Proven are a range from Scotland where the Weather is similar to that of Ireland. These units have a long track record for reliability and resilience.
"...The cost of using a professional wind energy company is often far less than the cost of DIY or using an in-experienced company."
Reduce your energy costs and reduce your carbon footprint at the same time by capturing the wind. Ireland is one of the best locations in the world for wind turbines. Wind turbine generators capture the wind energy in our air and convert it into electricity to power our homes, our farms and our businesses. Pure Energy Technology has been fitting both domestic and commercial wind turbines in Ireland since 2001.
You the consumer should be very selective when choosing your supplier of renewable energy, we will arrange for you to talk with some of our happy customers.
To find out more follow the links on this page to get more details of the Wind Generators and Wind Turbines Pure Energy Technology have been installing in Ireland and that are designed to both withstand the harsh Irish climate and to optimise performance in our windy weather to benefit you the most.
You can find out more about the renewable energy products we provide through the relevant sections of our website listed above. If you have other questions check out our FAQ section on generating electricity
Harness the Irish climate with your own Wind Turbine from Pure Energy Technology Wind Turbine products.