Solar Tubes - Pure Energy Vacuum tubes
Pure Energy Technology imports their Vacuum Tube solar systems from Germany. These attractive, high quality panels are built to our specifications to suit both Ireland's weather and building types.
High Efficiency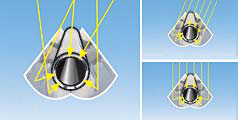 PURE Solar Tubes feature a Compound Parabolic Concentrator (CPC) which is basically a "curved mirror" underneath each individual tube. This ensures that ALL light is reflected onto the collector ensuring high efficiency. CPC tubes and up to 40% more than Non-CPC tubes.
Attractive
PURE Solar Tubes feature an attractive Dark Brown body and also a dark coloured Curved manifold on top. These are widely recognised as the most attractive vacuum tube solar panels available in Ireland.
Build Quality
PURE Solar Tubes frames are made in German from Aluminium which is then power coated. This not only looks great but ensures that it will stay looking great for years to come as they will not corrode or degrade.
Mounting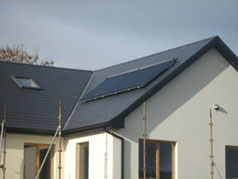 ON roof slate or tile
The Vacuum Tube Solar panels can be placed over the existing slates or tiles and placed on a mounting kit. This is the simpler of the options and it can be done efficiently on both new builds and is the main option with retrofits to existing houses.
Ground Mount
The Vacuum Tube Solar panels can be placed on a concrete slab on the ground on a frame at approx 45 degrees to the ground. This is popular where orientation of the roof might not be ideal or where roof space is limited.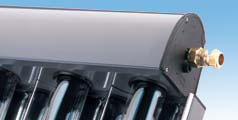 Wall Mount
An alternative to Ground mount is to place the Vacuum tubes on a south facing wall at a 45 degree angle. A frame is bolted to the wall and then the panels placed on it. Ideal where roof space is limited and it keeps the panels out of harms way.
Panel sizes
Click here to view pdf on sizes under the heading Solar Thermal.