Air to water heat pumps
Even cold air is full of energy and Dimplex air source heat pumps use the freely available heat in the ambient air to provide efficient heating and hot water at air temperatures as low as -25ºC. Because the source of heat – the air – is abundantly available all around us, air source heat pumps have the advantage of low installation costs and minimal space requirements, while relatively mild winter temperatures in Ireland mean excellent levels of efficiency and performance are achieved throughout the year.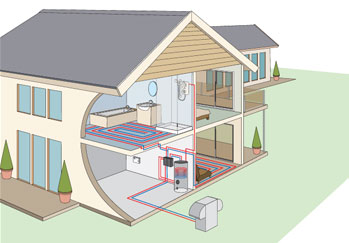 Benefits of the outside air as a heat source:
Can be utilised all year round between +35ºC and -25ºC.
Always available and inexhaustible source of heat.
No requirement for the cost and land area of ground collectors.
Ideal for new build or retro fit applications, especially where space is limited.
Air source heat pumps – benefits of the Irish climate
Compared with central Europe (where air source heat pumps are already very popular), Ireland has a relatively moderate winter climate. With average winter temperatures of around 5°C, seasonal Co-efficient of performance ( or Efficiency) comparable with ground source (or Geothermal) heat pumps are achievable, without the additional cost of expensive ground loop systems having to be installed.

Average Air temperatures in Ireland over a 12 month period
Outdoor Installation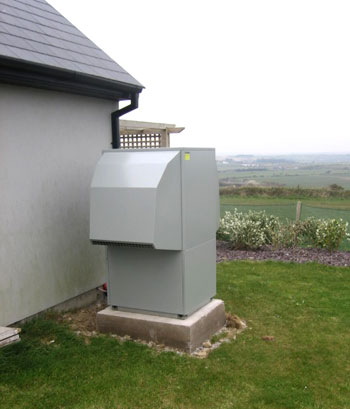 Dimplex outdoor air source heat pumps are constructed from robust, powder-coated metal casings to provide year round protection against the elements. The heat pump is connected to the indoor heating system simply by laying two heat insulated pipes and the electric connection cables under the ground.
Our robust outdoor air source heat pumps are constructed to withstand the best and worst of the Irish climate, with powder-coated metal casings and a stainless steel base frame. They're ideal where internal space is limited and can be installed up to 30m from the building.
Single phase devices are available in outputs of 6-16kW and up to 28kW for 3 phase connection providing a range of solutions for both domestic and commercial applications.
An air source heat pump system is normally designed to deliver 100% of the heating and hot water demand, with the heat pump itself typically sized to provide at least 95% of the heating requirement. To minimize investment costs, it is normal to provide the remaining energy demand from a supplementary heat source, most commonly an electric immersion heater, however, in retro-fit applications it is also possible to combine the heat pump with an existing boiler
LA MS/LA AS - Free standing air source heat pumps
Dimplex LA MS and LA AS ranges utilise air deflector hoods to minimise sound transmission. An auto-adaptive defrost cycle minimises energy consumption, while models with twin compressors (20kW and over) incorporate intelligent load switching to maximise compressor life.

Range features
5 models with nominal heating capacities from 11 – 16kW single phase and 20 – 28kW three phase.
Three phase models fitted with twin compressors for higher capacity output and two performance capacities.
Variable heating water flow temperature from 35°C – 55°C with weather compensation.
Suitable for use with underfloor heating or radiator systems and to provide domestic hot water.
Extensive sound insulation minimises noise emissions.
Energy optimised auto adaptive defrost cycle.
Electronic soft start reduces starting current loads.