Solar Panels Ireland General Information
Solar Panel Water Heaters can heat water virtually for FREE. Many People may believe that with Ireland Climate Solar Panels in Ireland are not an efficient system for generating hot water or electricity. But as can be seen below our overall climate is actually better than we might think! Pure Energy are one of Irelands largest suppliers of Renewable energy products.
Grants for Green Energy Solutions like solar panels available in Ireland
The following grants available to householders who have occupied a house for over one year to help them avail of renewable energy products.
Vacuum Tube €300 per m2 (to max.6m2)
Flat Plate €250 per m2 (to max.6m2)
If you would like to apply for the Grant then please CONTACT US and we will provide you with the technical data necessary for the application.
Find our more reasons to invest in Solar Energy Products in Ireland
Solar Panels in Ireland – not a myth! - We do get enough sun to make Solar an option!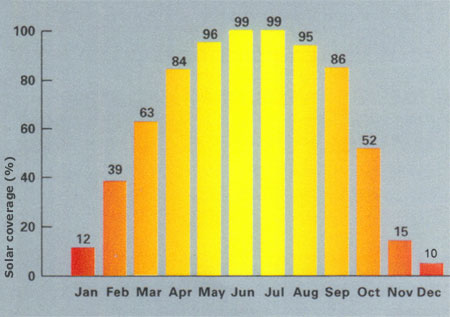 Ireland's solar climate is as good as Paris and 70% of the solar climate on the Mediterranean coast. In Ireland a horizontal surface of 1m2 receives an average of approximately 1100 Kilowatt-hours (kWh) of solar energy per year (the equivalent of 120 litres of oil)
Solar energy in Ireland is provided by both direct sunlight (40%) and indirect sunlight (60%). So, even when the sky is overcast, its radiation (sunlight) is available at ground level and can be converted into useful heat by a solar water heater.
A 6m² Flat Plate Solar Water Heater installations in Ireland could possibly provide the energy equivalent of a 3KW immersion heater running for almost 2.5 hours on average, every day, 365 days per year.
There are 2 uses for solar panels in Ireland to heat the water for your radiators or to generate electrical power.
Choose either Solar Flat Plate or Solar Tubes for more information and the advantages of each system for heating your home..
For more information on generating power from solar panels visit our - Generating Electricity Section.
PET have been installing renewable energy products in Ireland for years and will answer any questions you may have in relation to implementing any of our energy product solutions.